3 dive sites
Transfers Available
All Dive equipment
Lunch

Air-Conditioned Cabin

Hot Shower
Day Trip
Silverswift Dive and snorkel from Cairns
Departing daily from Cairns, Silverswift is a luxury 29-metre catamaran designed with everything you need to experience an underwater world of colourful marine life in safety and comfort. This trip visits three different sites on The Outer Barrier Reef, allowing certified divers to experience up to 3 dives in a day. Introductory diving is also available onboard for those interested in trying a dive for the very first time.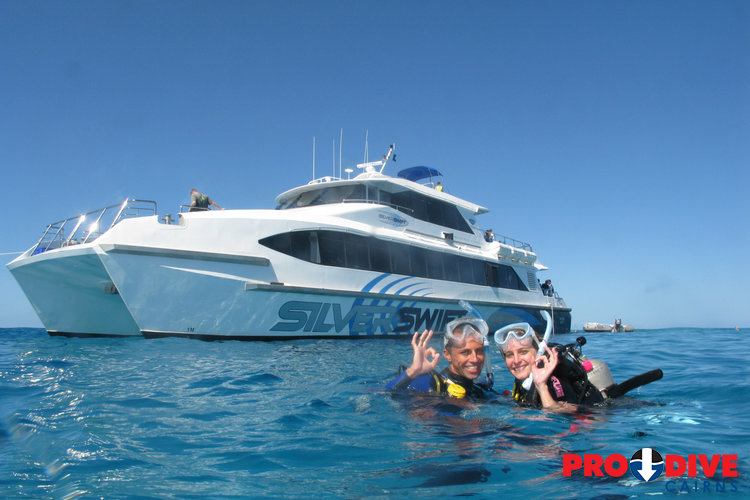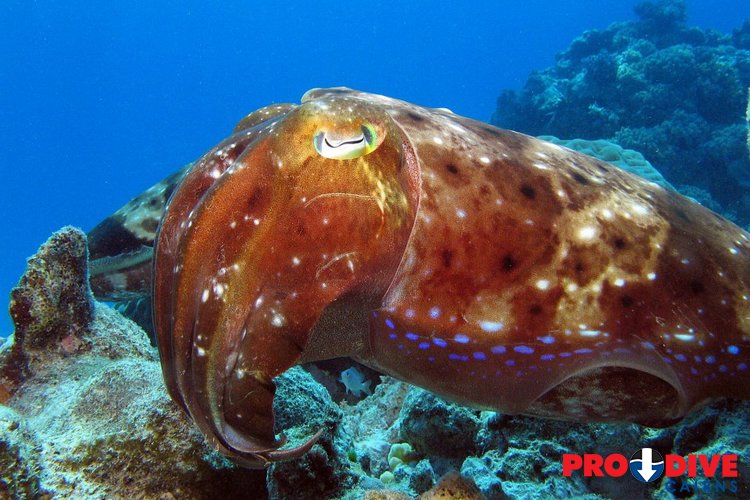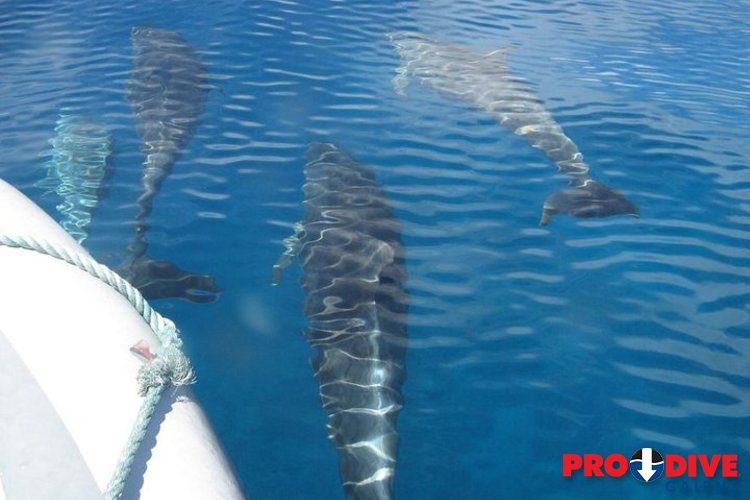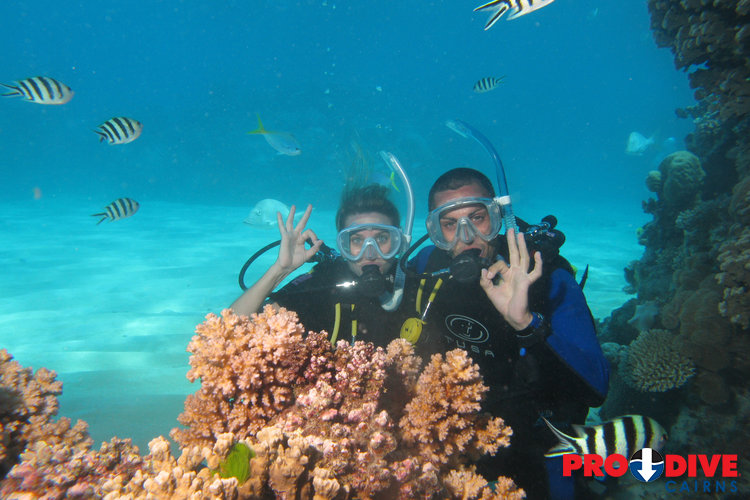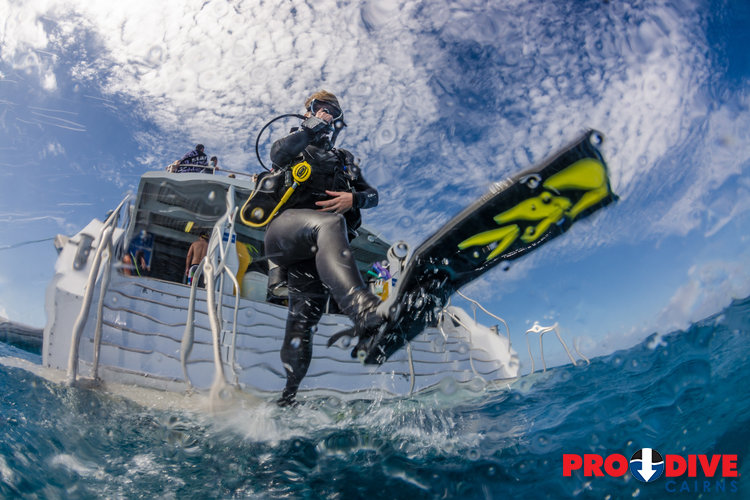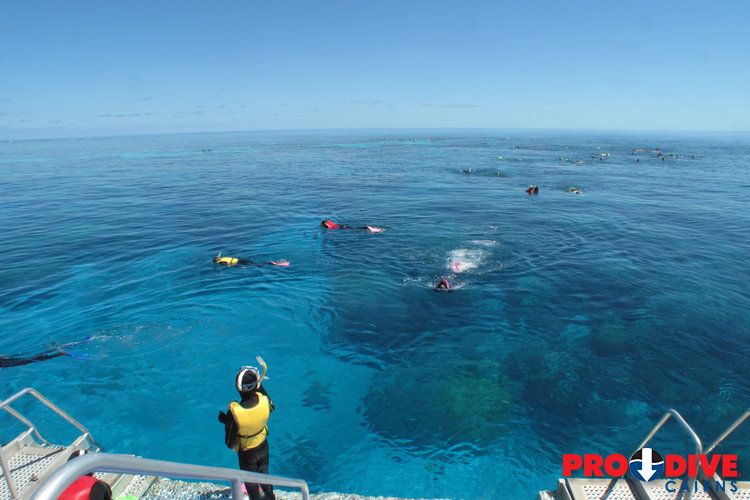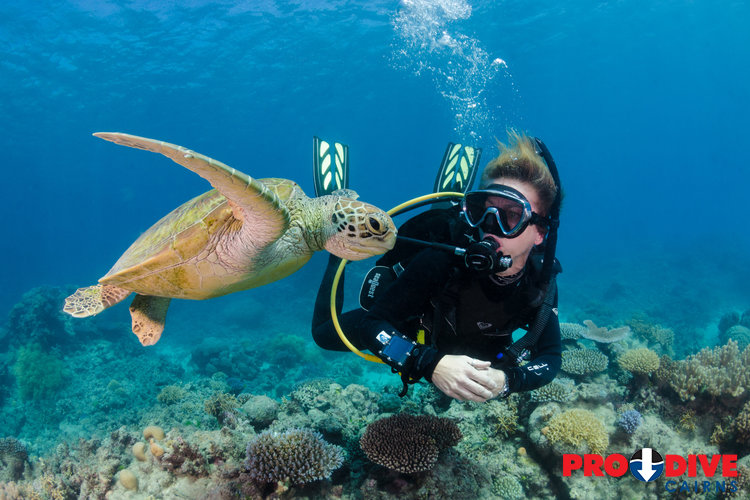 Adventurous snorkellers can explore spectacular coral formations and underwater gardens awash with vibrantly coloured marine creatures.

Locations vary with the conditions, however, each site is chosen for visual impact, ecological diversity, and the challenge of discovery. Onboard, your crew will encourage you to relax and enjoy the comfort of Silverswift with its bar facilities, fresh water showers, air conditioning and a delicious lunch for hungry adventurers.

Morning and afternoon tea is provided and the spacious deck areas are ideal for sharing a cold drink and tales of your adventure.
---
Please Note: some medical conditions may prevent you diving and you will be required to complete a waiver and medical statement prior to the trip. If you have recently/continue to suffer from an illness or condition that may affect your dive fitness, or are currently taking any prescription medication, you will need to consult a doctor for a 'fit to dive' medical certificate.
---
Tour
Itinerary
(Subject to variations according to conditions and reef sites visited)

08:00 Check-in
Check-in at Great Adventures reservations counter located inside the Reef Fleet Terminal for your boarding passes. Morning tea served on board.
08:30 Depart
Depart Cairns marina for the Outer Barrier Reef
10:20 Arrive at first dive/snorkel site
11:30 Second dive/snorkel site
12:00 Buffet lunch served
13:30 Third dive/snorkel site
14:30 Afternoon tea is served
14:40 Departure back to Cairns
16:15 Arrive back in Cairns
---
Tripadvisor
Reviews
4.5
Excellent! (Based on 1,090+ Reviews)
---
- Reviewed 30 August 2022 -
James T

Pro-dive cairns beginners course
This was the best experience iv ever had, iv become even more obsessed with the ocean because of them. The course was so easily run and it felt more like a holiday then a training session, each dive we learn something new and gave us massive confidence boost, even tho most days the ocean was a mess it didn't matter, by the last day it felt like iv been diving for years, it definitely solidified my choice to become a rescue diver one day. I can't wait to book my rescue course or even master dive and I have to go with pro dive cairns again, i have to.
Read full review
- Reviewed 6 October 2022 -
Bebe D

An amazing experience! Another tick off my bucket list!
One of the most amazing experiences of my life, loved it! BUT was so far out of my comfort zone I don't know how I completed the Open Water Diver Accreditation (not real keen on 'certification'! But, again, the Pro Dive team were so professional, supportive & knowledgable that I felt safe & secure even though I was feeling like 'I can't do this!' The only issue I have is I thnk Pro Dive do get their 'pound of flesh' from the young employees they have - they are enthusiastic young people who are often international travellers wanting to do what they love & are ? maybe taken advantage of because of their situation - I hope that doesn't happen so much in Oz anymore. Also the Aussies who are the backbone of the company may need to be appreciated more as you (Pro Dive) have some amazing employees! Particularly Sean (? Sp) who is a legend & held my hand on my first night dive.
Read full review
- Reviewed 3 August 2022 -
Egwene
Australia
First Liveaboard experience and now Advanced Open Water & Nitrox certified!
This was our first experience on a liveaboard - it was amazing and definitely a memorable one!My husband and I completed the Advanced Open Water Course with instructor Courtney who was absolutely fabulous, kind and very patient instructor. We had daily briefings with Caro, and also had Lucy and Michael who were amazing. Safety always comes first. Not forgetting Scott who never kept us hungry and cooked such amazing delicious food! And our skipper Angus who kept us going. Journey was very rocky but we were pre-warned and took Travacalm regularly to keep us going.What an energetic, professional group of people - we are so happy we went with ProDive on the 3-day liveaboard! Thank you guys and keep up the good work!Cheers, Beth & Tim
Read full review