12 dives
Dive Insurance
Transfers
All Dive equipment
Double or twin share
All meals
Free WiFi *

PADI
3 Day 2 Night Dive Coral Spawning Adventure
Coral Spawning is a once a year mass reproductive event where the coral release egg and sperm bundles into the ocean for external fertilisation. This once a year phenomenon is vital to the reefs continual adaptation and long term survival.
Join Pro Dive Cairns for a special 3 Day Coral spawning Dive Adventure, where you will visit up to four easterly outer Great Barrier Reef locations, taking in sites selected for their extravagance of marine life and excellent visibility. Divers get the opportunity to view magnificent hard and soft corals, giant clams, turtles, stingrays and the largest variety of tropical fish, both large and small. With an altered itinerary to include more night dives customers will get the best opportunity to experience this spawning even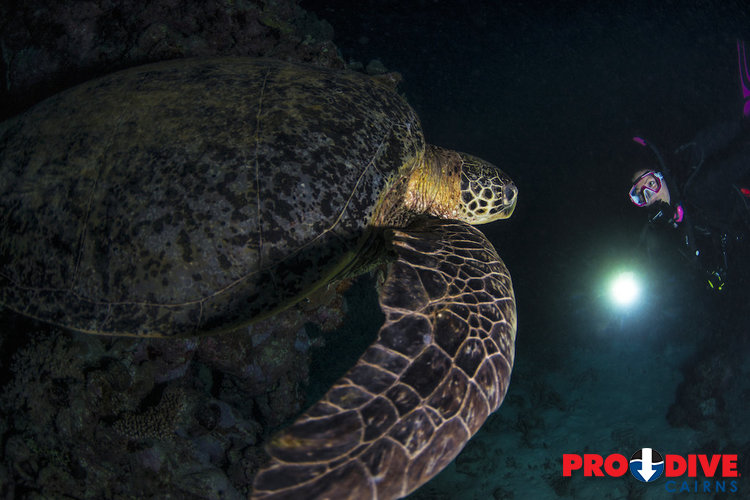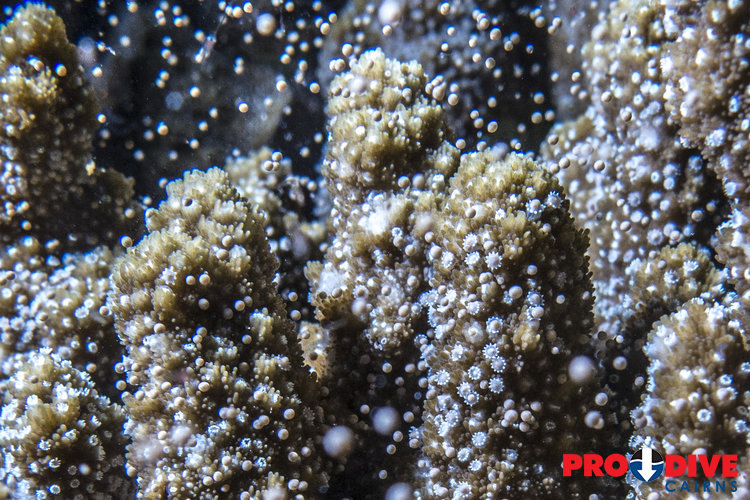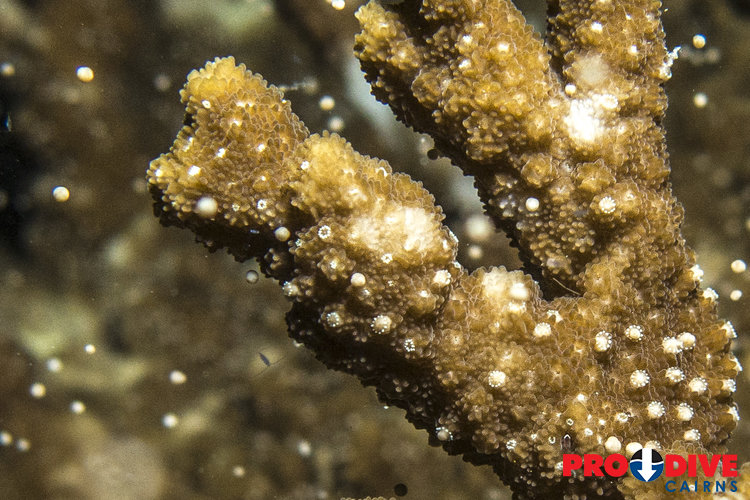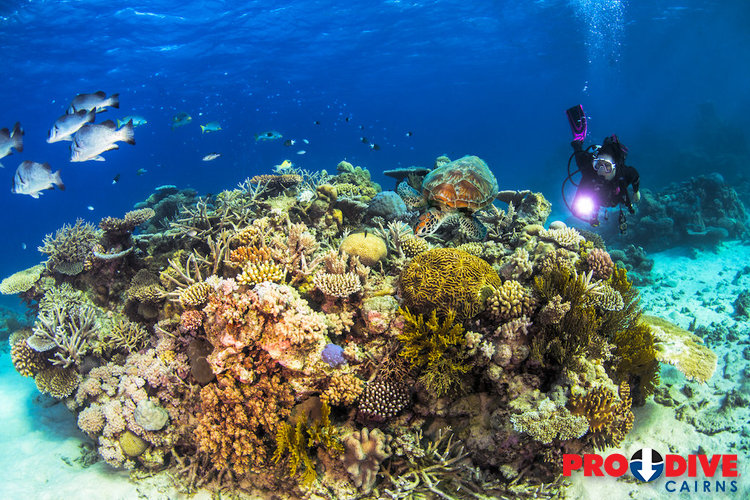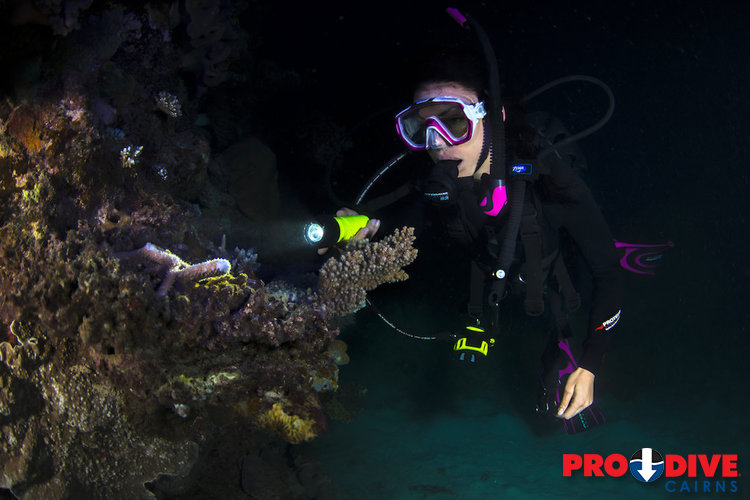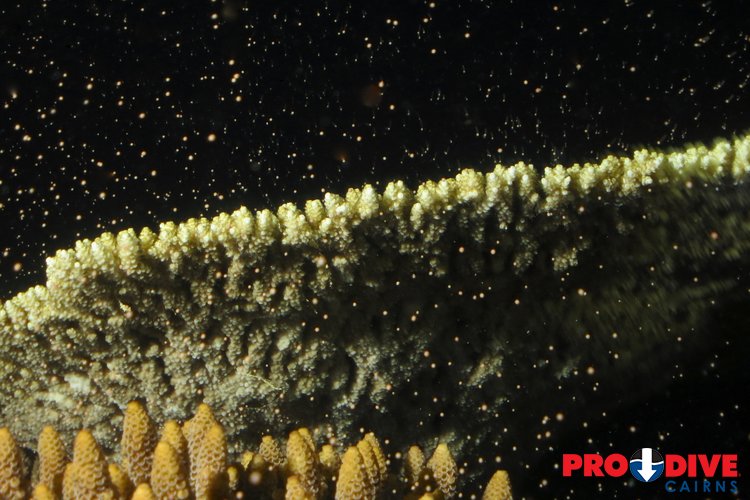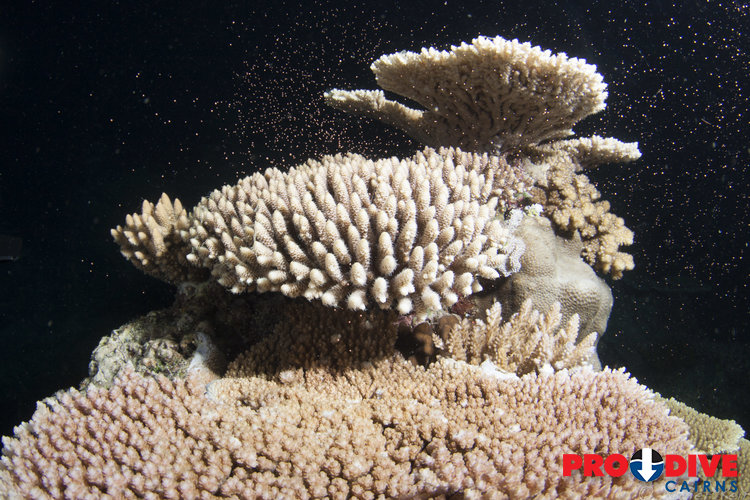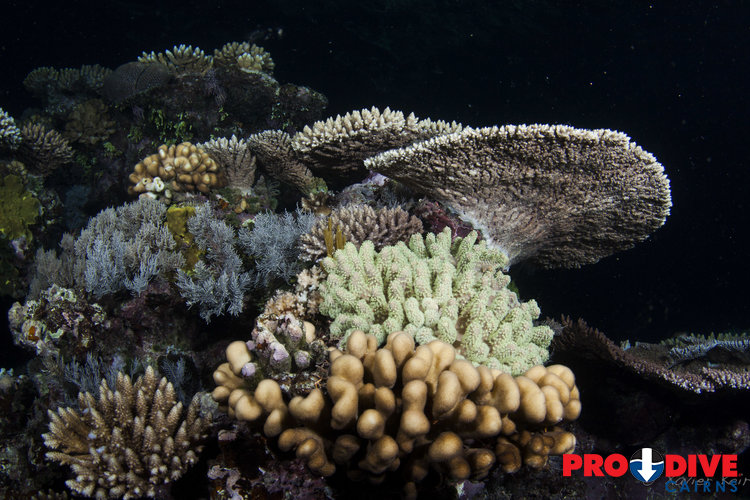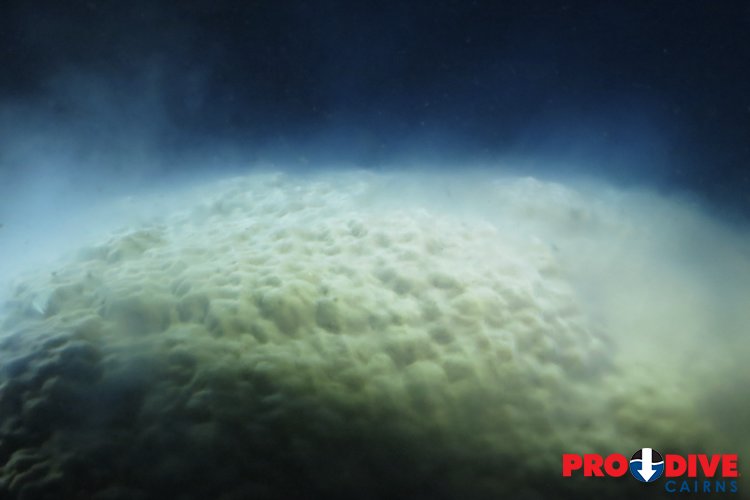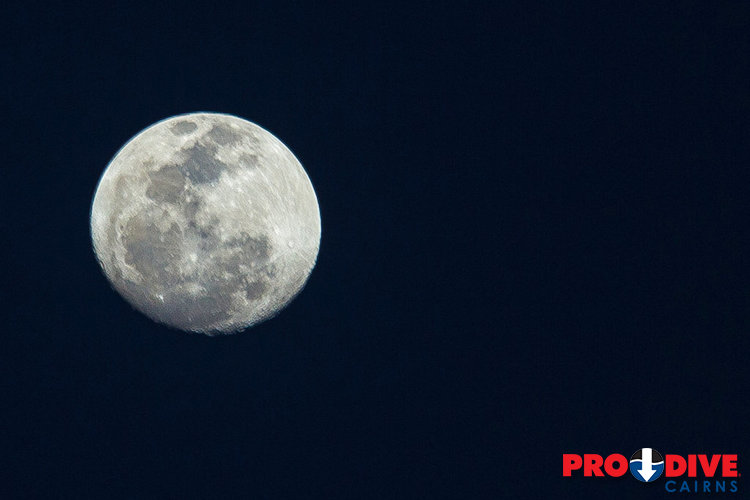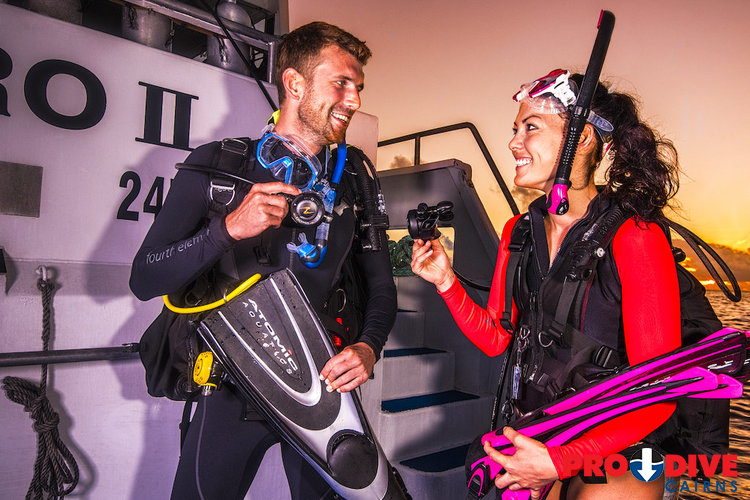 The special schedule allows for up to 12 dives, 4 of which are night dives (conditions permitting) and snorkelling. Cabins onboard are all twin share (2 single beds in the form of a bunk) and there are two double cabins (1 big bed) available upon request. All major international scuba accreditations are accepted and snorkelers / non-divers are most welcome.

The Great Barrier Reef is renowned as one of the Seven Natural Wonders of the world and is a declared World Heritage site. It encompasses 350,000 square kilometres of the South Pacific Ocean, extends for 2,000 kilometres, and is made up of 2,900 individual reefs and 71 coral cays. Its ecosystem supports the greatest concentration of life on the planet including 1,500 species of fish, 350 different kinds of coral, 4,000 species of molluscs and 10,000 species of sponges. Water temperatures range from 22°C to 30°C allowing comfortable diving all year round.

Please Note: some medical conditions may prevent you diving and you will be required to complete a waiver and medical statement prior to the trip. If you have recently/continue to suffer from an illness or condition that may affect your dive fitness, or currently taking any prescription medication, you will need to consult a doctor for a 'fit to dive' medical certificate.
---

WHY CHOOSE PRO DIVE CAIRNS?
Purpose built, PADI Five Star Dive and Career Development Centre
All dive crew are fully qualified PADI instructors. You will be diving with a passionate team of experienced professionals, ensuring the quality of your experience and your safety
Our boats carry a maximum of 32 passengers and six crew, providing you with a more personal experience
We provide a true liveaboard experience with our boats departing from and returning to Cairns for every three-day, two-night trip, with no boat to boat passenger transfers
Access to 19 high-quality dive sites ensuring a diverse range of reef environments and dives
Pro Dive Cairns is a high standard operator with Advanced Ecotourism Certification, committed to the long-term conservation of The Great Barrier Reef
Pro Dive Cairns has one of the highest safety standards in the world. With safety the number one priority, there is no safer place to dive in the world
---
Optional Upgrades
and Additional Courses
Additional certification courses available for completion during the liveaboard (additional cost):
PADI Advanced Open water Course

Offered in conjunction with the liveaboard trip, this course is the next step in your dive training; designed to expand your diving skills, knowledge and to give the inexperienced certified diver added confidence in their diving.
The PADI Enriched Air Course add on available.
padi Enriched air Course
(Nitrox)

Enriched air (nitrox) is a nitrogen/oxygen mix that extends your allowable bottom time and reduces your nitrogen loading over multiple dives
---
Tour
Itinerary
We recommend that you visit our retail shop located on the corner of Grafton and Shields streets the night before your trip to arrange the diving/snorkelling equipment, ensure the necessary paperwork is in order and to ensure your certification details are correct. The shop is open Monday - Wednesday: 12.00am - 6.00pm, Thursday - Friday: 9.00am - 6.00pm and Saturday: 12.00am - 6.00pm.
Please note, the below itinerary is a guide only, and the order of sites may change. The skipper will always adapt the plan to the prevailing weather, tides and currents.
⚠️ Note: You can choose up to 4 dives from 5 scheduled on day one

06:00 Complimentary accommodation transfer
Available from Cairns city and Northern Beaches accommodation.
06:20 Check-in at Pro Dive Cairns retail shop
Corner of Grafton and Shields streets, MAP
07:00 Depart Cairns
Depart Cairns for 3 days and 2 nights of fantastic diving/snorkelling on The Great Barrier Reef. A light breakfast is served onboard.
11:00 Dive 1
Your first dive is before lunch. A dive guide will be offered for those divers who have not dived in a while. This is an opportunity for you to acclimatise to the diving conditions, and fine-tune your skills if it has been some time since your last dive.
12:30 Lunch is served
14:30 Dive 2
Head off and discover more underwater delights. Once you have completed your dive, the vessel moves on to the next site.
16:30 Dive 3
After an afternoon of relaxing, it is time for your third dive of the trip
18:00 Dinner is served
19:45 Dive 4: the night dive!
We try to do the night dive at the same site as the afternoon dive, as this way you are familiar with your surroundings.
21:45Dive 5: Second night dive!
Second night dive to catch the coral spawning
23:00 Dessert is served
07:00Dive 6
The vessel moves for an early morning dive.
09:00 Breakfast is served
11:15Dive 7
After breakfast, the vessel moves on for the second dive of the day.
12:45 Lunch is served
15:15Dive 8
After lunch, it is time for your third dive.
17:45 Dinner is served
19:30Dive 9: night dive
21:45Dive 10: Second night dive!
Second night dive to catch the coral spawning
23:00 Dessert is served
06:30Dive 11
Your first dive of the day – a sunrise dive to enjoy the reef waking up
07:30 Breakfast
A hot breakfast accompanied with fresh fruit salad, cereals and toast
09:00
Dive 12
After breakfast, you visit the last site of the trip, for the second dive of the day
11:00Dive 13
The last dive of the trip, finished by 1200 noon
12:00 Lunch
16:00 Complimentary return transfer
Return transfer to your accommodation
18:00
19:30 Farewell dinner (optional, additional cost)
Join fellow passengers and crew at a local restaurant for a farewell dinner
---
Tripadvisor
Reviews
4.5
Excellent! (Based on 1,090+ Reviews)
---
- Reviewed 1 August 2022 -
Molly W

Amazing experience!
Incredible trip! I had an amazing experience on the 5 day certification liveaboard with Pro Dive. My instructor Flo was so patient and made me feel calm and confident in the water from day one. She explained everything clearly and is a brilliantly instructor! The crew on board were so on it and supportive, there was a great atmosphere on the boat the whole time. The food was delicious too, we were all very well looked after! I'd highly recommend Pro Dive to anyone looking to get certified.
Read full review
- Reviewed 15 June 2022 -
Stace I
Newcastle, Australia
Would come back in a heartbeat
We had a FANTASTIC time with Pro Dive! Friendly, knowledgeable and professional staff made the experience feel safe, relaxed and fun.We are certified divers but had not been diving for a few years. It was nice being able to go with a guide for our first dive. Then we were able to explore with just our buddies at our own pace.The dive sites were great and full of life! I have already recommended Pro Dive Cairns to friends and family and would pick them again next time we come to Cairns!
Read full review
- Reviewed 19 July 2022 -
Guilherme R

Diving, diving, diving!
Spent 3 days on a boat diving like there was no tomorrow! The crew (Kevin, Big D, Caleb, Lisa, Sam, Marinos and The Captain) were always helpful, fun and instructive. Would definitely recommend for experienced divers, for those who wish to learn how to dive or just for the fun of diving.
Read full review