9 dives
Dive Insurance
Transfers
All Dive equipment
Double or twin share
All meals
Free Wifi

PADI
Complete your certification with Pro Dive
If you have completed PADI pool and theory training elsewhere, Pro Dive Cairns can help you complete your Open Water certification training onboard one of our three-day liveaboard trips; during which you will have the opportunity to participate in up to nine dives. The first four are training dives, which will complete your PADI Open Water certification. Once certified, you can enjoy five more recreational dives, one of which is an exciting night dive guided by your dive instructor.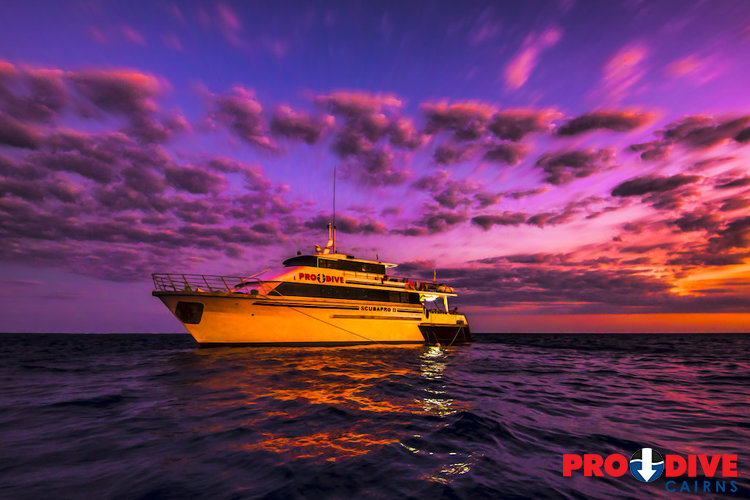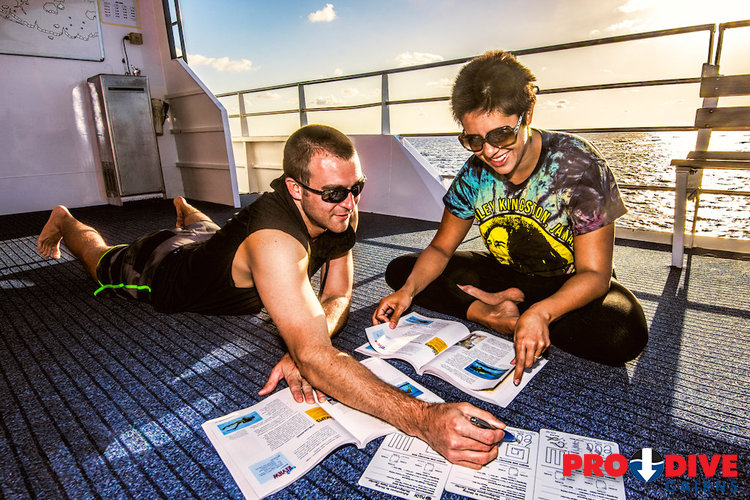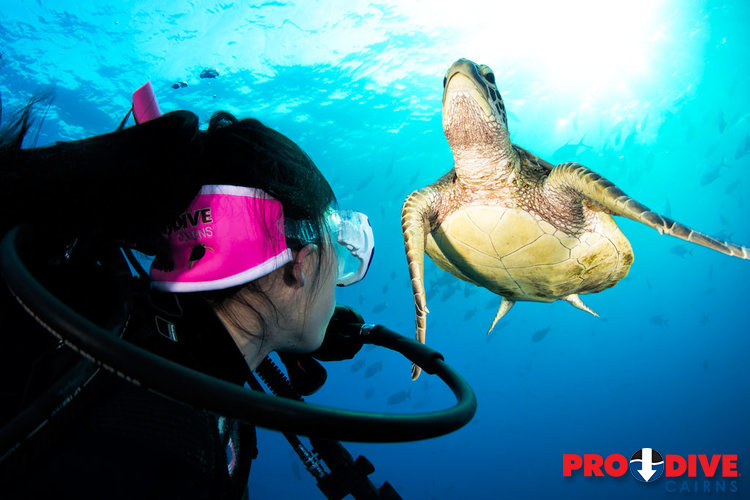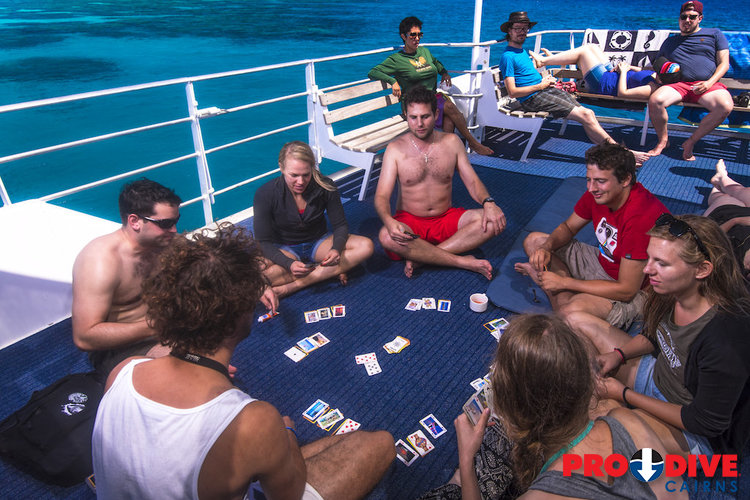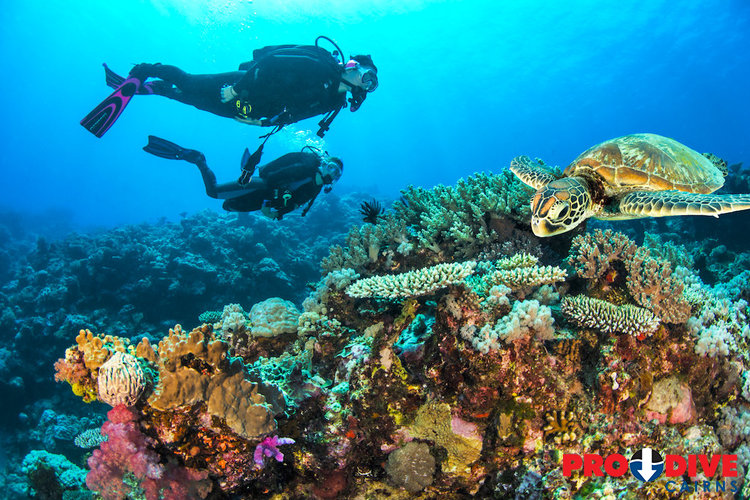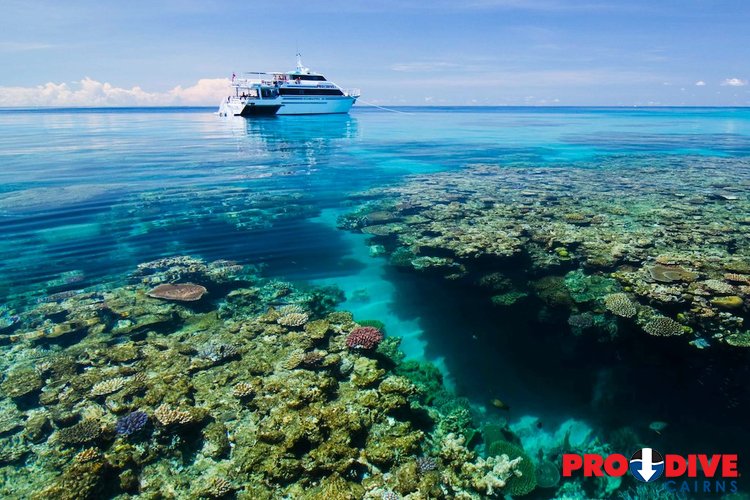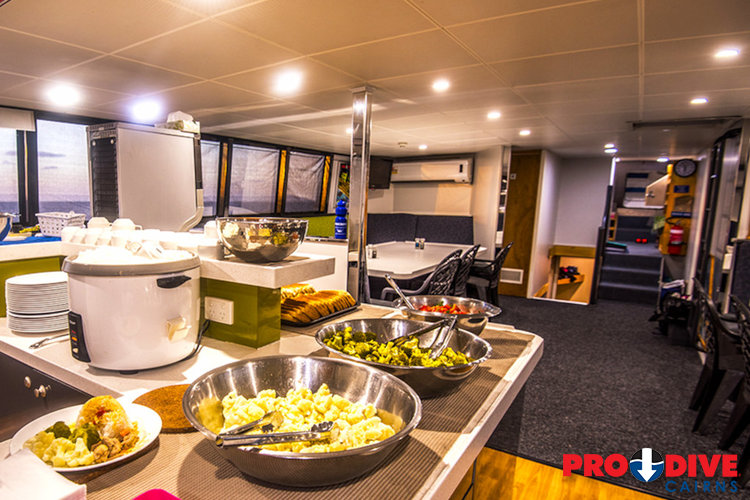 Pro Dive Cairns has access to 19 outer reef dive sites over four magnificent reefs: Flynn, Thetford, Milln and Pellowe Reef. Diving at different times throughout the day, you will be able to encounter an amazing diversity of marine life including giant clams, sea turtles, stingrays, reef sharks, an incredible variety of tropical fish, spectacular coral formations with consistent underwater visibility. Night diving will introduce a whole new dimension of nocturnal life.
Between dives, relax in comfort onboard one of our three premium Scubapro dive vessels. These purpose-built, liveaboard dive vessels feature air-conditioned twin bunk bed or double bed cabins, spacious decks, WiFi and catered meals. With small passenger numbers, we are able to offer a high-quality, personal experience with dedicated attention from our professional staff.
Departing Cairns every day except Tuesday, the three-day ocean referral course offers a truly memorable and exciting way to fully immerse yourself and experience our magnificent world heritage Great Barrier Reef environment.
---
Important Health and Safety Information:
Prior to commencing your dive course, you are required to complete the self-assessment Student Diver Medical Declaration. A positive response to any questions indicates there is a pre-existing condition which may affect your safety while diving and you must consult a medical practitioner, preferably with experience in diving medicine, to obtain a dive medical certificate that states you are medically fit to dive. Medical must be complete within 90 days of starting your dive course. To obtain a copy of the form Click Here
---
Why Choose Pro Dive Cairns?
Purpose built, PADI Five Star Dive and Career Development Centre
All dive crew are fully qualified PADI instructors. You will be diving with a passionate team of experienced professionals, ensuring the quality of your experience and your safety
Our boats carry a maximum of 32 passengers and six crew, providing you with a more personal experience
We provide a true liveaboard experience with our boats departing from and returning to Cairns for every three-day, two-night trip, with no boat to boat passenger transfers
Access to 19 high-quality dive sites ensuring a diverse range of reef environments and dives
Pro Dive Cairns is a high standard operator with Advanced Ecotourism Certification, committed to the long-term conservation of The Great Barrier Reef
Pro Dive Cairns has one of the highest safety standards in the world. With safety the number one priority, there is no safer place to learn to dive dive in the world
---
Tips
Ask plenty of questions, our instructors are keen to help you gain your confidence as a diver
Let us know if anything is making you uncomfortable e.g. straps too tight
Drink lots of water and stay hydrated
Don't give up and stay positive! If you are having problems, you are not alone and we will help you
Tour
Itinerary
We suggest you drop into our retail shop located on the corner of Grafton and Shields streets the night before your trip, to arrange your diving/snorkelling equipment, and fill out the necessary paperwork. The shop is open Monday - Wednesday: 12.00am - 6.00pm, Thursday - Friday: 9.00am - 6.00pm and Saturday: 12.00am - 6.00pm.
Please note, the below itinerary is a guide only, and the order of sites may change. The skipper will always adapt the plan to the prevailing weather, tides and currents.
06:00
Complimentary hotel transfer
Available from Cairns city and Northern Beaches hotels/hostels
06:20Check in at Pro Dive Cairns retail shop
Corner of Shields & Grafton Streets, Cairns City
07:00Depart Cairns for 3 days & 2 nights on The Great Barrier Reef
Light breakfast served on board
11:00Dive 1: Training dive
12:30Lunch
14:30
Dive 2: Training dive


16:30
Snorkelling opportunity
18:00Dinner
19:45Night dive
Watch the certified divers participating in the first-night dive of the trip
07:00
Dive 3: Training dive
First dive of the day, before breakfast
09:00
Breakfast
11:15
Dive 4: Training dive
This will be the last training dive for Open Water certification
12:45Lunch
15:15Dive 5
First dive as a newly certified scuba diver
17:45Dinner
19:30Dive 6: Night dive
Guided night dive experience for all newly certified divers
06:30
Dive 7
Your first dive of the day – a sunrise dive to enjoy the reef waking up.
07:30
Breakfast
09:00
Dive 8


11:00
Dive 9
The last dive of the trip, finished by 1200 noon
12:15
Lunch
16:00
Complimentary return transfer
Return transfer to your accommodation
19:30Farewell dinner (optional, additional cost)
Join fellow passengers and crew at a local restaurant for a farewell dinner
---
Tripadvisor
Reviews
4.5
Excellent! (Based on 1,090+ Reviews)
---
- Reviewed 31 August 2022 -
Michael M

First time noob obtaining open water PADI
Unquestionably, a must-do bucket list activity (with Pro Dive Cairns).Knowledgable team, thoughtful pick ups and drop offs during lessons, and friendly staff all the way. The lessons were hands-on and very informative with everyone's safety in mind. Such a cool experience, you really don't want to take any chances. Five star rated for a reason! Whoop Whoo, Yip Yip! Till next time!Thank you, Pro Dive Cairns!
Read full review
- Reviewed 9 June 2022 -
DanielleMilln
Vancouver, Canada
A highlight of our trip to Australia!
The liveaboard boat was an incredible experience, getting to scuba and snorkel with all sorts of wildlife in the Coral Sea and learn about proper dive techniques. The staff and instructors are incredibly kind, knowledgeable, and helpful, from the office staff to everyone on the boat. We are grateful for our time with Pro Dive Cairns and will absolutely be booking future trips!
Read full review
- Reviewed 13 October 2022 -
cynthiaa30051
Kuala Lumpur, Malaysia
Would do again in a heartbeat
I did the 3 day 2 night liveaboard as a solo traveler (age 17).I felt very welcome by everybody right from the beginning and everyone on the trip was really great, instructors, cook, other divers, etc. Great atmosphere among the group and everyone has a shared love for the ocean. Very international.Dive instructors were great, plenty food. I brought my own snacks but didn't open a single one as I was well fed.We did 11 dives, all were in fantastic reefs and the water visibility was incredible with really healthy reefs. This included 2 night dives. I had my open water certification going into the trip but chose not to do any further offered courses such as Advanced. (purely recreational diving)We saw turtles, plenty of sharks, incredible corals, rays, cuttlefish, etcTo improve and to make the trip more comfortable, it would be great if the air conditioning was a bit less cold as a lot of people felt cold. I recommend to bring a sweater.
Read full review