11 dives
Dive Insurance
Transfers
All Dive equipment
Double or twin share
All meals
Free Wifi

PADI
take your

dive skills to the next level

The PADI Advanced Open Water Course is the first step beyond basic certification and is designed to develop your confidence underwater by expanding your existing skills. Conducted on the Pro Dive Cairns three-day, two-night liveaboard dive trip, there is no more spectacular classroom than The Great Barrier Reef itself, with its abundance of marine life and excellent diving conditions year round.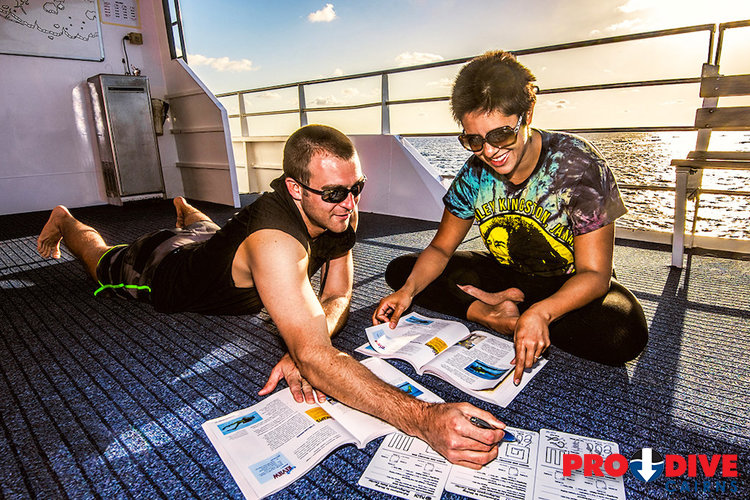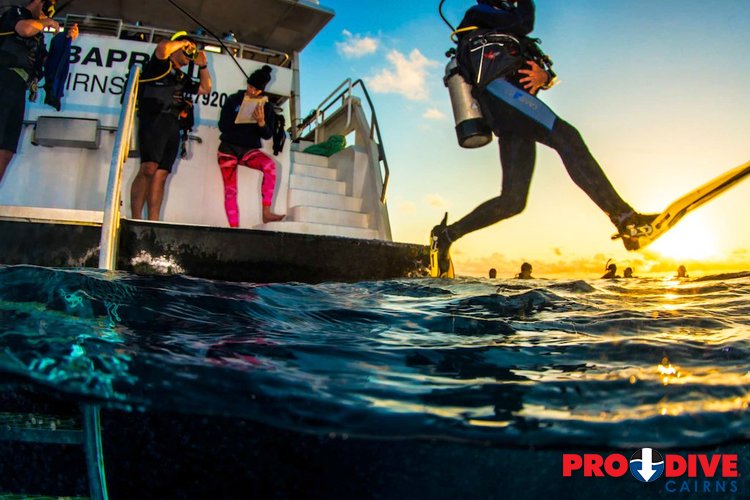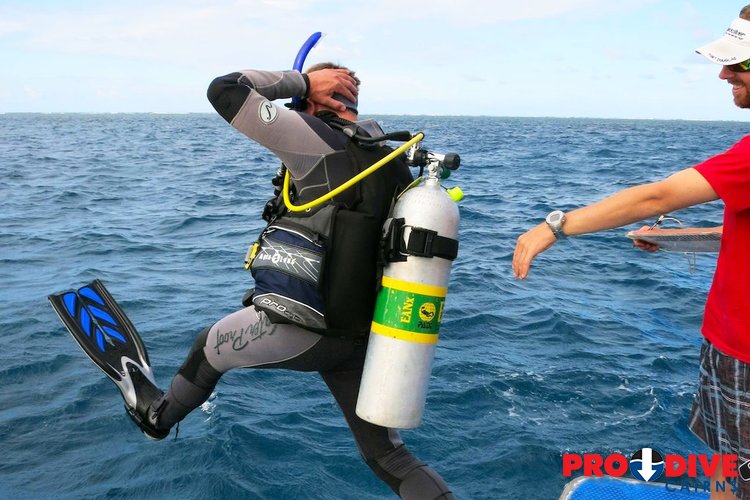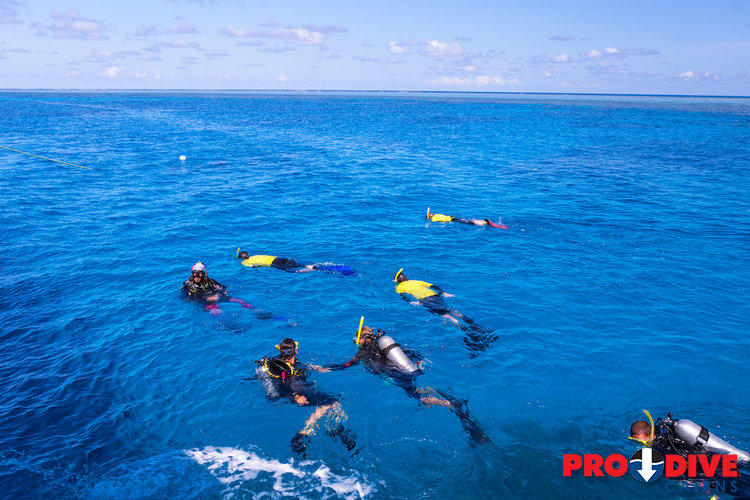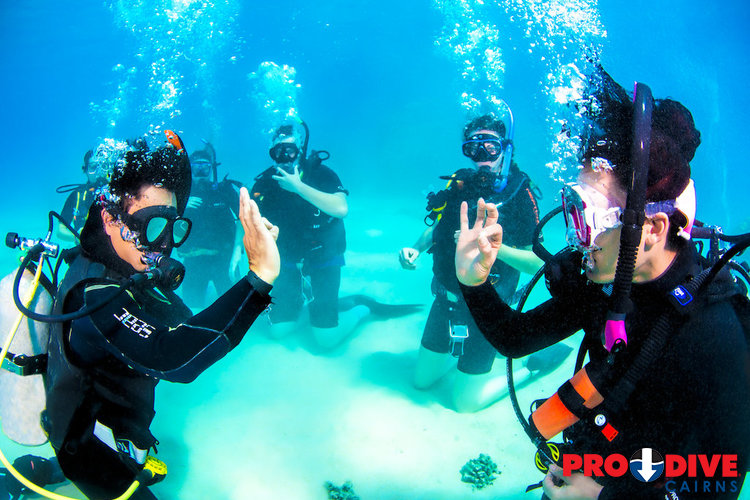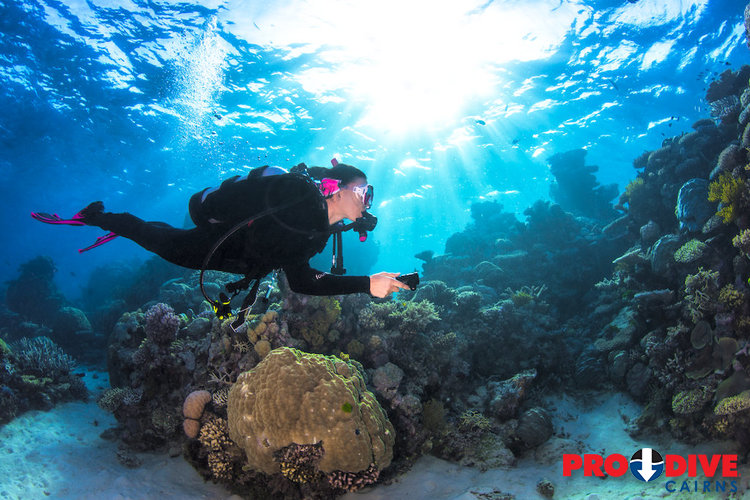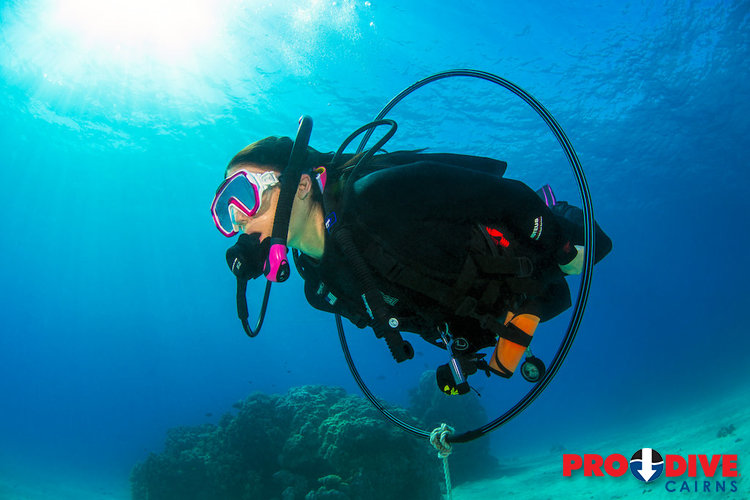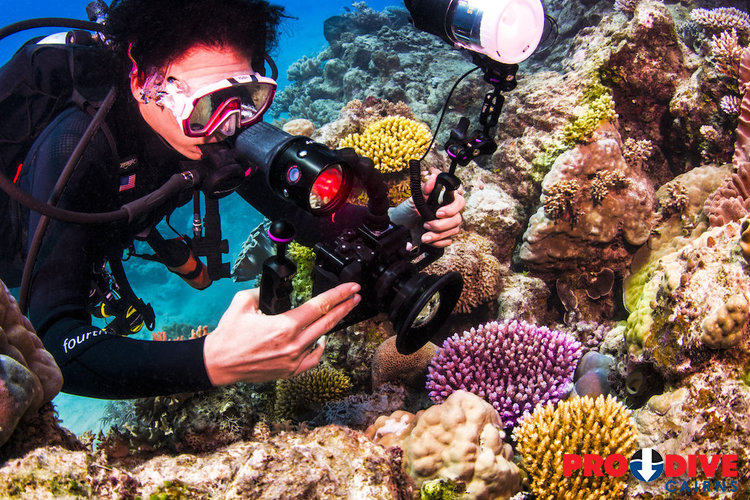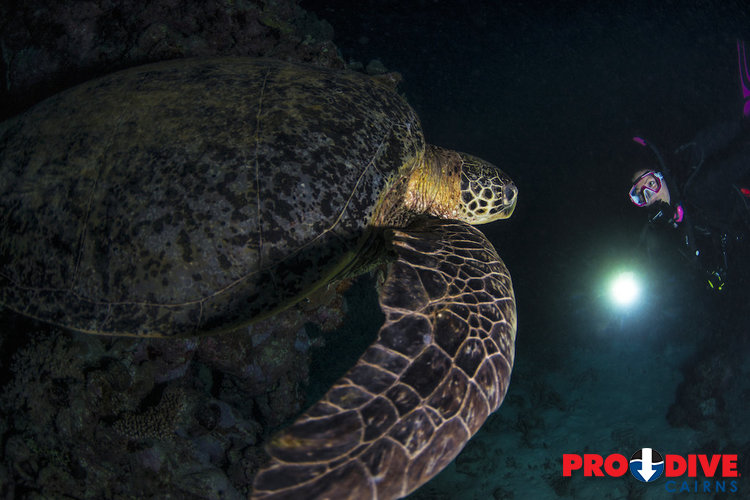 The prerequisite for this course is a PADI Open Water certificate or equivalent from another training agency. There are no formal classroom sessions involved, but students will need to read through the PADI Advanced Open Water manual and answer the relevant knowledge review questions for each training dive. Our course is designed to have minimal intrusion on the enjoyment of your liveaboard experience with ample time set aside to complete the knowledge reviews throughout the trip.
Our PADI Advanced Open Water course offers 11 dives with access to a selection of 19 outer reef dive sites on four magnificent reefs: Flynn,Thetford, Milln and Pellowe Reef. Diving at different times throughout the day, you will be able to encounter an amazing diversity of marine life including giant clams, sea turtles, stingrays, reef sharks, an incredible variety of tropical fish, spectacular coral formations with consistent underwater visibility. Night diving will introduce a whole new dimension of nocturnal life.
The Advanced certification requires the completion of three core dives: deep dive, underwater navigation, and night dive. You must also complete two elective dives, which can include nitrox, underwater naturalist, peak performance buoyancy, boat. Other elective options may be available which you can discuss with your instructor.

Between dives, relax in comfort onboard one of our three premium Scubapro dive vessels. These purpose-built, liveaboard dive vessels feature air-conditioned twin bunk bed or double bed cabins, spacious decks, WiFi and catered meals. With small passenger numbers, we are able to offer a high quality, personal experience with dedicated attention from our professional staff.
Departing Cairns every day except Monday & Tuesday, our three-day, two-night liveaboard trips offer a truly memorable and exciting way to fully immerse yourself and experience our magnificent world heritage Great Barrier Reef environment.
---
Important Health and Safety Information:
Before commencing your PADI Advanced Open Water course, you are required to complete the self-assessment Continuing Education Student Diver Medical Declaration. A positive response to any question indicates there is a pre-existing condition which may affect your safety while diving and you must consult a medical practitioner, preferably with experience in diving medicine, to obtain a dive medical certificate that states you are medically fit to dive.
To obtain a copy of the Continuing Education Student Diver Medical Declaration, please click here. The medical must be completed within 12 months of starting your dive course.
---
Why Choose Pro Dive Cairns?
Purpose built, PADI Five Star Dive and Career Development Centre
All dive crew are fully qualified PADI instructors. You will be diving with a passionate team of experienced professionals, ensuring the quality of your experience and your safety
Our boats carry a maximum of 32 passengers and six crew, providing you with a more personal experience
We provide a true liveaboard experience with our boats departing from and returning to Cairns for every three-day, two-night trip, with no boat to boat passenger transfers
Access to 19 high-quality dive sites ensuring a diverse range of reef environments and dives
Pro Dive Cairns is a high standard operator with Advanced Ecotourism Certification, committed to the long-term conservation of The Great Barrier Reef
Pro Dive Cairns has one of the highest safety standards in the world. With safety the number one priority, there is no safer place to dive in the world
---
---
Additional Courses or Optional Extras:
Advanced & Enriched air PACKAGE (NITROX)


Combine the Enriched Air (Nitrox) course with the PADI Advanced Course to get the most out of your three days on The Great Barrier Reef.
---
Tour
Itinerary
We recommend that you visit our retail shop located on the corner of Grafton and Shields streets the night before your trip to arrange the diving/snorkelling equipment, ensure the necessary paperwork is in order and to ensure your certification details are correct. The shop is open Monday - Wednesday: 12.00am - 6.00pm, Thursday - Friday: 9.00am - 6.00pm and Saturday: 12.00am - 6.00pm.
Please note, the below itinerary is a guide only, and the order of sites and dives may change. The skipper will always adapt the plan to the prevailing weather, tides and currents.
05:45Complimentary hotel transfer
Available from Cairns City and Northern Beaches accommodation.
06:20Check-in at Pro Dive Cairns retail shop
Corner of Grafton and Shields streets, open map.
07:00Depart Cairns
A light breakfast is served onboard.
11:00Dive 1
Your first dive is before lunch. A dive guide will be offered for those divers who have not dived in a while. This is an opportunity for you to acclimatise to the diving conditions, fine-tune your skills or even to refresh your skills if it has been some time since your last dive.
12:30Lunch
14:30Dive 2: Peak Performance Buoyancy
If you choose peak performance buoyancy as one of your elective dives, we will use this dive to help you fine-tune your buoyancy, weight adjustments and equipment trim in preparation for the remaining dives. Otherwise, head off and discover more underwater delights. Once you have completed your dive, the vessel moves on to the next site.
16:30
Dive 3: Navigation Dive
During this dive you will complete exercises using both a compass and natural references to help improve your underwater navigation skills.
18:00Dinner
19:45Dive 4: Night Dive
An introduction to night diving on The Great Barrier Reef. Your instructor will help you prepare and plan for future night dives that you may do without the supervision of an instructor. Your instructor will accompany you on this training dive for your comfort and safety. During the dive, you will complete a simple navigation exercise before a guided tour, where you could find sleeping turtles, parrotfish and a variety of other marine life only encountered at night.


0730
07:00
Dive 5: Deep Dive
During this dive, we will give you the experience to safely conduct dives beyond your 18 metre depth limit. Under the close supervision of your dive instructor, you will conduct a deep dive where you will be shown the effects of increased pressure and colour absorption at depth.
09:00
Breakfast
1100
11:15
Dive 6: Underwater Naturalist
If you're interested in learning more about The Great Barrier Reef and its ecosystem this dive is an absolute must! Learn how to identify the main families of fish from damselfish to triggerfish. You will also be taught how to identify the different corals. If this dive interests you make sure you don't miss the Reef Teach marine biology presentation the night before your trip departs.
12:45
Lunch


15:15
Dive 7: Underwater Photography
If you want to take home some lasting memories this elective dive is ideal. On your Underwater Photography dive you will be taught pre and post underwater camera
care and how to get the best results from your underwater camera. After preparing your underwater camera your dive will simply involve trying to capture the beauty of The Great Barrier Reef. Digital underwater cameras are available to hire onboard or at our retail shop at an extra cost.


1500
17:45
Dinner
19:30
Dive 8: Night dive
After a briefing from the dive supervisor it's now time to put your training into practice
06:30 Dive 9:
Morning of pleasure diving and the opportunity to finish any additional training dives you may not have completed yet.
07:30
Breakfast
09:00
Dive 10
11:00
Dive 11
12:00
Lunch
16:00
Complimentary return transfer
Return transfer to your accommodation
19:30Farewell dinner (optional, additional cost)
Join fellow passengers and crew at a local restaurant for a farewell dinner
---
Tripadvisor
Reviews
4.5
Excellent! (Based on 1,090+ Reviews)
---
- Reviewed 3 August 2022 -
Graeme C
Melbourne, Australia
Great experience and diving
Fantastic and well organised trip. I was doing my Advanced Open Water and Nitrox course (good combination!), and the diving and dive sites were great. Plenty of yummy food, and the crew looked after us really well. Particular shout out to Caleb as the AOW instructor - educative and in control without micro-managing - and Kevin as supervisor, who was equal parts entertaining and informative.
Read full review
- Reviewed 19 October 2022 -
Sue H
Dandenong, Australia
Feel totally spoilt, 10 fab dives, good tuition and support, great food and compsny
I did a night dive!!!!!Aaaaaand found my first eel!!👏🏼👏🏼Saw soooo many soft snd hard corals, Nemo!!! and Dori!!! Also lovely tropical fish, turtles and sharks
Read full review
- Reviewed 23 November 2022 -
Gav B

You are never to old to experience diving with Pro Dive Cairns
I want to thank Pro Dive for an amazing experience, for the value of such an experience both personally and within the economic valueI would also like to express as a 56 year old how amazing my instructor and dive master, Satoshi was, he took his time in a space that had to fit a lot of knowledge and training within a short amount of time.What Satoshi gifts is a formal knowledge and an ability to share this knowledge calmly and without frustration, a sometimes rare trait in today's fast paced environment... he would often take that breath to explain, show and listen to each of us and our individual needs. He also gifts a beautiful sense of play, his play is sensitive, and is in no way showing off; he offers an experience of flow within his play, encouraging us students to breathe and find our own sense of curiosity. Lastly Satoshi encouraged us, he gave us permission to learn through a somatic expression—by both talking and showing us the things we needed to learn, he then took the time to allow each of us to find our own unique sense of learning, he listened and watched us, encouraging even within our mistakes.I appreciate that he took me as an elder diver under his wing, Satoshi never stopped encouraging me, giving me confidence to keep experiencing.I also want to say everyone at Pro Dive were amazing... the boat was great, the food fantastic, beds comfortable, knowledge of the reef and inclusion of everyone into a team is very special.And everyone at the store, booking in and helping me was greatThank you again for a very special 56 birthday Kindness Gav
Read full review